UAI Staff News
Volume V
Issue 31
April 30th, 2018
[School Days 145-149]
[25 Days Remaining in MP6] [29 Days Remaining in HS School Year] [39 Days Remaining in MS School Year]
Announcements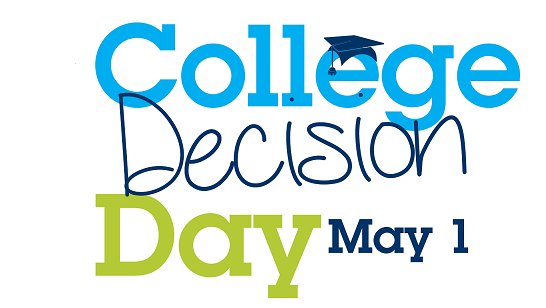 College Match Day. This week on May 1st, our seniors make their final commitments to their colleges and universities. As of Friday, about 52/67 students had already made their final decision. Make a point to celebrate their future this week by asking the seniors where they decided to go! It's a huge decision for each of them and their families. Knowing that we are happy for them and that we celebrate their work is exactly the encouragement and assurance that they need!
Science Expo. This weekend Ms. Meaghan took a group of 6th graders to present at a science expo. Ms. Meaghan said,"
6th graders ...went with me to the science expo where they presented their health outreach efforts. Everyone complimented them on how well they carried themselves, and how knowledgeable they were! They did an amazing job! It was Kimora, Anaia, Manal, Hikari, and Jaeda. Cynnia was also part of it but wasn't able to come." Thank you for sharing Ms. Meaghan and thank you for being there to help our young girls show off their learning and presence!
6th Annual Operation Prom. For the 6th year in a row, Ms. Doris has coordinated efforts with Operation Prom to support our young women in crafting the most memorable prom night. From dresses to shoes to accessories, Operation Prom provides our students and students from around the Borough with high quality items that transform our young students into sophisticated and beautiful young women! Thank you Ms. Doris for your commitment to our girls!!
To Do This Week
Monday PD and EOY Conferences.

All staff should meet in room 409 (For HS) and room 305 (for MS) to review testing this week for the NYS Middle School Math Exam and to review the HS Benchmark schedule. After Brodie and Joanna review expectations, the schedule and any questions folks have, teachers will continue to have independent work time to link up their lessons and unit plans. Starting this week, Annie and I will begin having End of the Year Conferences with teachers. You will be pulled from grading for your meetings and the meetings will be no longer than 30min. During this meeting we'll be using the Pacing Guides to see the evolution of your planning and we'll be sharing your MOTP thus far to discuss how the planning aligns to your observed teaching practice. By the end of this meeting, we will also be using the Pacing Guides to select a unit upon which you will focus your revision efforts for the retreat. If you are interested in earning per session to continue this work (see the Per Session Posting below), please let Kiri or Annie know during this meeting.






Per Session Opportunities
Summer School. This summer we will be sharing our summer school MS with Unison. So our students will be together. HS Summer School will be just UAI. Here are the teachers who were selected for summer school. Summer school for both MS and HS begins on July 5th. We will have an orientation for students. Summer school teachers begin on Monday, July 9th. Classes are Mondays through Thursdays only. MS Runs through August 2nd. HS Credit Recovery runs 09JUL through 02AUG, and Regents Prep Runs August 6th - 15th. Regents and Regents Grading will be August 16th, 17th, and 20th. Teachers who sign up for Regents Prep are signing up for Regents Grading and Proctoring as well. Teachers will also receive 1/2 hour of prep per day during instructional days.

8:30-10AM Grades 6/7 ELA - Ryan Mack, Unison

10:00-11:30AM Grades 7/8 ELA- Ryan Mack, Unison

8:30-10AM Grades 7/8 Math - Cherry Reid, UAI

10-11:30AM Grades 6/7 Math - Cherry Reid, UAI

8:30-11:30 AM High School Core Course Credit Recovery 09JUL - 02JUL - Jamie Ross, UAI & Giselle Vitaliti UAI

8:30-11:30 AM HS PE Course Recovery - Elana




Regents Prep (Hours TBD based on our June Regents Outcomes)

Cassandra - English

Jamie - Math (TBD based on June outcomes)

Kelly P - USH and GLO

Giselle - Science Regents Prep

NOTE: Kristina and Cassandra, depending on our numbers, I may need to open additional sections of course work in July. You're both on the waitlist.




Prom Chaperone

. The following four people were chosen for Prom Chaperone: Sursattie, Elana, Damon, and Jamie.




Summer Planning.

Teachers who are interested in receiving up to 40 hours of per session for planning this summer should email Kiri by the end of the day on Friday. Hours can be used flexibly to accommodate your summer plans. In order to be eligible for this position, your UAI Pacing Calendars must be complete and fully linked to the lessons you used this year. This planning time will be used to refine this year's lessons and units in preparation for next year, and in order to best prepare to work with you, Annie and I need to have access to your lessons and units.




SEL Update:

After watching a video clip on kindness in their SEL class a group of 6th graders were inspired to start a community service campaign to help those in need. As a result, we will be dedicating the Month of May to community service in our SEL classes. Students will develop their own Public Service Announcements related to a topic of their choice. We will be holding a PSA Fair at the end of May. One of the themes will be a Red Nose Day to bring awareness to Childhood Poverty.

We can't wait to see them learn about ways they can make a difference & become inspired to take action!